End of summer update and important traffic route information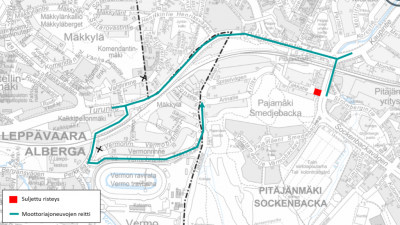 Important: car traffic route changes leading to Hacklab
Starting from this week, Takkatie road to Helsinki Hacklab is temporarily closed from east and car users now have to arrive from Ravitie past Vermo hippodrome. The road work lasts for three months because of the new tram line construction. The tram starts its operation in 2024 and the closest stop will be 550 meters from our door in direction of Vermo. The closed crossing is marked with a red square in the picture.
End of summer opening times
We cannot promise normal weekly operations as for now, and there are no courses planned, only short indroductory trainings for tools occasionaly. Open Tuesdays are going on somewhat normally, but please refrain from visiting the place if you just plan to hang around without any projects etc., or in case you have been traveling or exposed to the virus in some risk location.
Now that much of the making and doing stays home, our online community is more important than ever. If you are a member and have not yet joined our Slack group, you can request a new join link from hallitus email.
New upstairs doors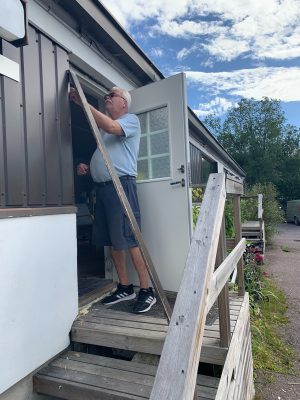 This weekend we changed the first of two new doors in our upstairs expansion area. The goal is to connect them in our electronic lock system soon. The insides have also been improved with new paint on the walls. Doors had to be ordered in special measurements because of the low available installation height and odd widths.
There is also an ongoing work with the chemistry room. The fume cabinet is fitted with a blower that sends the air out. Similar work has been done also for the laser cutter, and it works with manual on/off for now.