Tiistai-ilta 1.7.2014 ja uudet kangasmerkit
Tiistai-ilta 1.7.2014 ja uudet kangasmerkit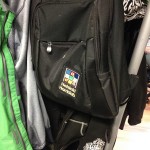 Hans järjesti labille uusia kangasmerkkejä!
Omasi saat labin karkkiautomaatista 2 € hintaan! Monivärisen merkin koko on n. 9×7 senttimetriä.
New sewing patches with Helsinki Hacklab logo and text now available on the candy automat for 2 €.
Syövytyshuoneessa oli ruuhkaa ja valotuslaitteen pinta kaipasi puhdistusta. Syövytysten kanssa ei ollut tällä kertaa onnea. Aika vaihtaa kehiteliuos uuteen?
Jäsenen edustaman kilpailyryhmän RFID-laite. Pohjalla Raspberry riisuttuna ylimääräisistä liittimistä, päällä SPI-väyläinen näyttö ja etualalla antenni 3D-tulostetussa laatikossa.