Piensarjatuotantoa CNC-jyrsimellä
Piensarjatuotantoa CNC-jyrsimellä
Update 2016-03-28
Rambo has posted a step-by-step report about this CNC-project. See pictures and information here: thread @ Hacklab Discourse.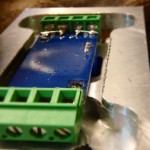 Rambo on suunnitellut ledinauhojen regulaattoreiden koteloimiseksi alumiinista jyrsityn palan, jonka sisälle regu mahtuu mukavasti ja regulevyn komponenttien kohdalle jyrsittyihin koloihin. Yhdestä alumiinikangen pätkästä on ohjelmoitu usean samanlaisen laatikon jyrisntäradat vaihtamalla koneen koordinaatistoa töiden välillä.
Regulaattorit liitetään myöhemmin kiinni ulos sijoitettaviin ledivaloihin. Projekti on ehkä tähän mennessä suuritöisin Lotalla tehty työ, ja sen etenemistä voi seurata Flickrissä. Samalla on tullut testattua syöttö- ja nopeusasetuksia eri työkaluille ja katkottua paksumpi leikkuuterä.
Kuvia tiistai-illalta
Kuvia keskiviikolta
Lisää kuvia ilmestyy sitä mukaa kun työ etenee.
Lotta CNC 101 course in English
Next CNC course for beginners will be held in English this time. Follow this discourse thread for more information and give suggestions for weekdays that suit you best.