Avoin päivä lauantaina 30.1. Helsingissä
Avoin päivä lauantaina 30.1. Helsingissä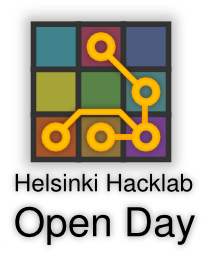 Helsinki Hacklab järjestää lauantaina 30.1 ensimmäisen avoimen päivänsä, Open Day 1:n. Esittelemme erilaisia elektroniikkaprojekteja, järjestämme Arduino-työpajan jossa pääsee kokeilemaan yksinkertaisen mikrokontrolleriprojektin rakentamista ja ohjelmoimista, kerromme Helsinki Hacklabista ja keskustelemme hackerspace-toiminnasta.
Tilaisuus on maksuton ja avoin kaikille kiinnostuneille. Tapahtuma järjestetään lauantaina 30.1.2010 klo 14-20 taidetila Ptarmigan:issa Vallilassa ( http://www.ptarmigan.fi/). Osoite on Nilsiänkatu 10, Helsinki. Paikalle voi tulla kun sopii ja olla niin kauan kuin huvittaa. Omia projekteja saa tuoda mukaan näytille.
—
Helsinki Hacklab arranges the first Open Projects day.  We present various electronic, art, and related projects, and arrange a public Arduino workshop where you can get hands-on experience in building and programming a simple microcontroller based electronic device.  We also present Helsinki Hacklab activity.  More detailed program will be available closer to the event.
This is a free event open to anyone interested in electronic projects, electronic art, open hardware, and general tinkering.  You can also bring your own project to show to others. The event will be held on Saturday 30.1.2010, 14-20, at Ptarmigan art space, Nilsiänkatu 10, Helsinki (http://www.ptarmigan.fi/).