Workspace status update, HSF2018 and more
Workspace status update, HSF2018 and more
Some development in the workspace – the next Open Tuesday still undecided!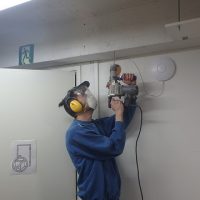 Open Tuesdays and other weekly happenings should soon return, but as for now, the cancellations are still going on. The floor gets painted, and it might be impossible even to visit the hackerspace during following next days.
Hopefully we can return to normal actions on the second week of February. Please follow updates on this site to know better.
Update: Helsinki Hacklab closes its doors between 6th Feb. and 12th Feb

Open Tuesday is cancelled on 6th Feb.!

Also, basics of woodturning is moved to next week and the digital technology course skips this Thursday.
HSF2018 – Hacklab Summit Finland
This year organized by Hacklab Jyväskylä for the first time! The event is held simultaneously with Instanssi digital culture and demoscene party. Our HSF robot competition is presented to the audience, and all the demoscene shows are also available for the hackerspace groups. We also have time to plan co-operation just with our hacklab.fi friends.
Major theme will be deciding if hacklab.fi should organize itself into a formal registered association, as a top level co-op of Finnish hacklabs. We hope that these hackerspace and makerspace groups can join in the discussion.
Hacklab Summit Finland has been organized annually since 2012. The ticket shop is now open!
Photos from January