We are painting the floors, there is no Open Tuesday on 16th July
We are painting the floors, there is no Open Tuesday on 16th July
Painting is done on this weeked, 12th-14th July
Start of following week the place is in very limited use
There is no Open Tuesday on 16th July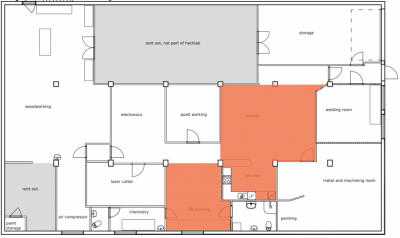 We paint the floors in lecture room, kitchen and 3D printing room, which means that there is either no access or no easy access to most parts of the lab (kitchen, toilets, machining room etc.) plus there is pungent paint smell everywhere. Also we need to move stuff away from painted area to other rooms, making them possibly difficult to use.
Please avoid using the lab if possible, until we can announce the place usable for working again. The job is done by our volunteers, reply in discourse forum if you can help us.
---
Maalaaminen tehdään viikonloppuna 12.-14. päivä, ja seuraavana viikkona avoin tiistain on peruttu. Muutoinkin alkuviikosta työtilan käyttö on vielä hyvin rajoitettua, ja esimerkiksi keittiö ja vessat eivät ole käytössä. Pyri välttämään läbillä käymistä siihen asti, kunnes paikka ilmoitetaan taas käyttökuntoiseksi ja maalin kuivumisen ohjeiden mukainen aika on kulunut.
Maali on kuivuessaan voimakkaan hajuista, joten jos sinulla on naulakkoon unohtuneita vaatteita, hae ne pois heti. Maalina käytetään samaa ainetta, millä mm. elektroniikkatila ja laserhuone ovat maalattu, ja hajuhaitta tiedetään jo ennalta voimakkaaksi ja pitkäaikaiseksi. Lisäksi joudumme siirtämään tavaroita maalattavalta alueelta muihin huoneisiin, mikä voi vaikeuttaa näiden tilojen käyttöä.
Maalaaminen tehdään omin vapaaehtoisvoimin, yksinkertaisimmillaan työ on tavaroiden siirtelyä maalattavalta alueelta pois ja lattian siivousta, joten kokemusta maalaamisesta ei tarvitse olla: