Moving to Takkatie 18, a status update
Helsinki Hacklab is moving to a new address, Takkatie 18, during the end of 2014. We expect most of the work be ready in November, but before that, we are renovating the new location. This means that there are cancellations and exceptions in our regular weekly meetings. If you plan to visit us, please bear in mind that we might have not much time to keep this website or other information up to date, so be in contact with us beforehand and we can tell you the current situation.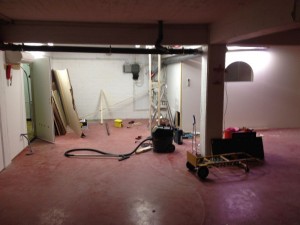 Yesterday our members were at Takkatie planning the use for rooms, checking places for larger items and doing general renovating work. This weekend is going to be major moving of all our stuff, and we need as many volunteers as possible to participate.