Hyvää joulua! & Hacklab kiinni 24.12.
Hyvää joulua! & Hacklab kiinni 24.12.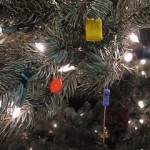 Helsinki Hacklab toivottaa kaikille hyvää joulua! Hacklab on poikkeuksellisesti kiinni tiistaina 24.12. eli avointa päivää ei kyseisellä viikolla järjestetä! Joudutte siis valitettavasti viettämään jouluaattonne jossain muualla 😉
Helsinki Hacklab wishes happy holidays to everyone! next tuesday 24.12. is an exception to our open tuesdays, we are not open! Unfortunately you must spend your christmas eve at somewhere else 😉
Update: The next tuesday is 31. and thus new years eve, we suggest you spend it with your other friends and elsewhere.
Päivitys: Ti 31. päivä on uudenvuodenaatto ja senkin joutuu viettämään muualla kuin läbillä.