Busy Saturday
Busy Saturday
All photos from Saturday available on Flickr!

Visitors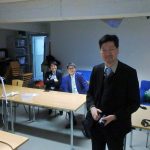 This Saturday morning we received a visit from Hong Kong Productivity Council. The group was on a tour learning about creative spaces in Finland, and they also wanted to see our hackerspace. Rambo was kind to wake up early (though he was CNC milling late on the previous night) so that our guests could also visit Espoo library makerspace and catch their returning flight. He also managed to get the front door open despite of some malfunction in the electronic lock. Thank you for the visit HK!
A new lathe
We have looked for a sturdier metal lathe for a long time. Earlier this week, I found a suitable candidate in Raisio, and Kremmen quickly arranged the deal after inspecting the machine and getting a group of donors for the buy. At 6 pm the lathe arrived at Hacklab front door. We had about ten volunteers carefully pushing, rolling and winching the heavy object – a true last mile problem. Front door was almost reached after two hours of work.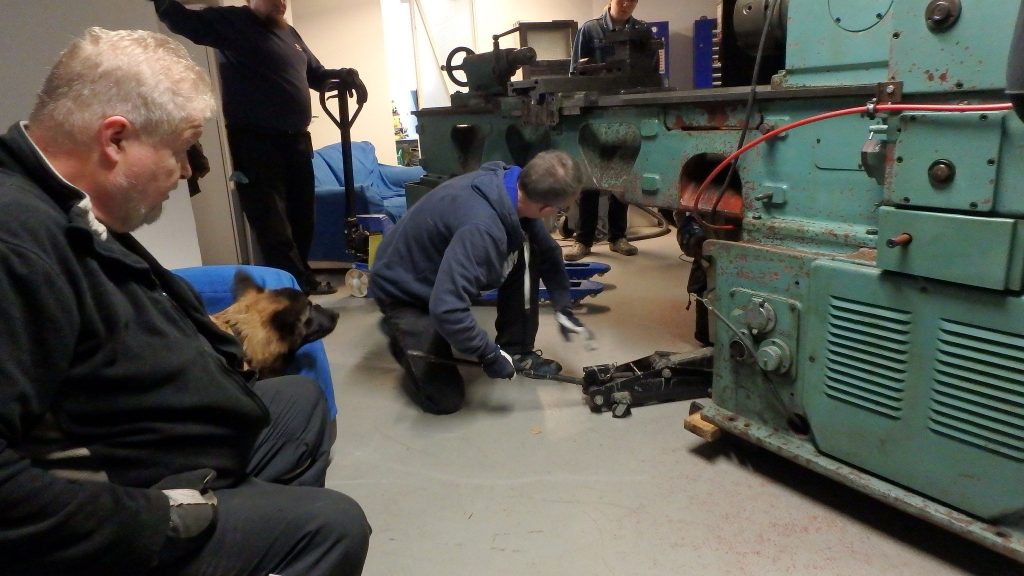 After getting over the doorstep and through our narrow corridor, the work became much faster. The space had been cleared clean earlier that day. For some reason, we managed accidentally open the oil plug and decided to release everything out after finding a bucket and some hand towels before making too much mess.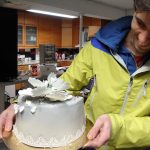 Our upstairs neighbours had got married that day, and they kindly gave us rest of their wedding cake. The project had taken some time, and not many of us had eaten anything in midst of it, so this was a very much appreciated and greeted gift. Congratulations!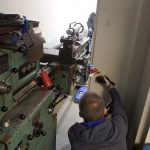 At 11 pm, after solving the oil spill and making more space by sawing some bits off the wall, the lathe was now on its final spot. There are not much tools for the lathe yet, so if you want to contribute to this purchase, see our discussion forum thread about how we bought the machine and what is needed for getting it to work. Big thanks to everyone who participated in the process!
Other projects
Lotta CNC was emptied of its excess milling material. It had collected a good amount of mostly aluminium chips inside, and it was time to get it all out. Now it's looking much better.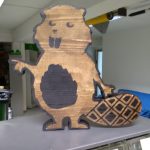 Depili had started making a beaver figure sign for the wood working room door. First, the picture was printed, then glued on a piece of wood, band sawed, filed and finally a wood finish layer was applied on the surface. I used Inkscape and our vinyl cutter to make a stencil mask, and after some airbrushing, the beaver now had some character.
Also, rambo was quick fixing the front door lock, before leaving the space among the last ones (again).