Robotin rakentelua ryhmässä
Robotin rakentelua ryhmässä
Oletko aina halunnut tehdä jonkun projektin Hacklabilla, mutta ideat puuttuvat? Suunnittelemme opintopiiriä sokkelorobottien rakenteluun: tavoitteena on tehdä oma rakennelma seuraavaan Suomen Hacklabien yhteiseen kisaan, joka järjestetään kesällä Helsingissä.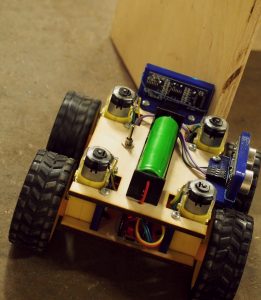 Robotti soveltuu myös ensimmäiseksi projektiksi. Tammikuun kisasssa radan selvitti läpi yhdeksästä robotista seitsemän, joista vain kaksi ilman apukosketuksia – ensimmäisestä mutkasta selviävä robotti on siis jo pieni voitto! Ja jos projekti ei ehdi valmistua tähän kisaan, niin sitten seuraavaan.
Niillä opintopiiriin osallistuvilla, jotka eivät vielä ehkä tiedä mitä haluaisivat rakentaa, olisi hyvä olla alkeistason kokemusta esimerkiksi Arduinosta. Ideana on, että jokainen tekee omanlaisensa laitteen. Opastamme hankintojen tekemisessä, osien valitsemisessa ja niiden käytössä. Osallistujat hankkivat robotin osat itse, ja haastavuuden mukaan osina voi käyttää itse suunniteltuja ja rakennettuja tarvikkeita tai valmiita alustoja. Hacklabilta löytyviä erinäisiä satunnaisia osia voi käyttää.
Ilmoita oma halukkuutesi osallistua, kysymyksesi ja muut tiedustelut opintopiirille kirjoittamalla tähän keskusteluun:
https://discourse.hacklab.fi/t/kisarobotti-hsf-rata-opintopiiri/554/3
---
Always wanted to make something at the Hacklab, but don't know what it could be?
We are planning co-learning meetings for those who want to build – possibly their first – maze solving robots. The idea is to build individual, different types of robots, which are all built by our members, and to encourage each others to complete their robots. You can buy a ready made chassis beforehand or design everything by yourself, depending on the challenge you want to take. The goal is to race in a competition this summer, which is held by Helsinki Hacklab for all hackerspaces in Finland. Some previous knowledge of Arduinos is preferred, but we don't require any specific techniques.
Join the group by replying in this discussion thread:
https://discourse.hacklab.fi/t/kisarobotti-hsf-rata-opintopiiri/554/3